In COVID Times
We entered year 2021 with positive vibes. The vaccine arrival and recovery signals appeared over the horizon.
Message From CEO:

We entered the year 2021 with positive vibes. The vaccine arrival and recovery signals appeared over the horizon. Unfortunately, these dreams were soon shattered by the second wave bringing the pandemic back into action.  April 2020 has repeated itself. Comparing statistics, April 2021 is perhaps more intense. We can certainly say this because our own positive cases are more as compared to last April. A quick screenshot from the official government website is as below. We compare the statistics of India and our state Telangana.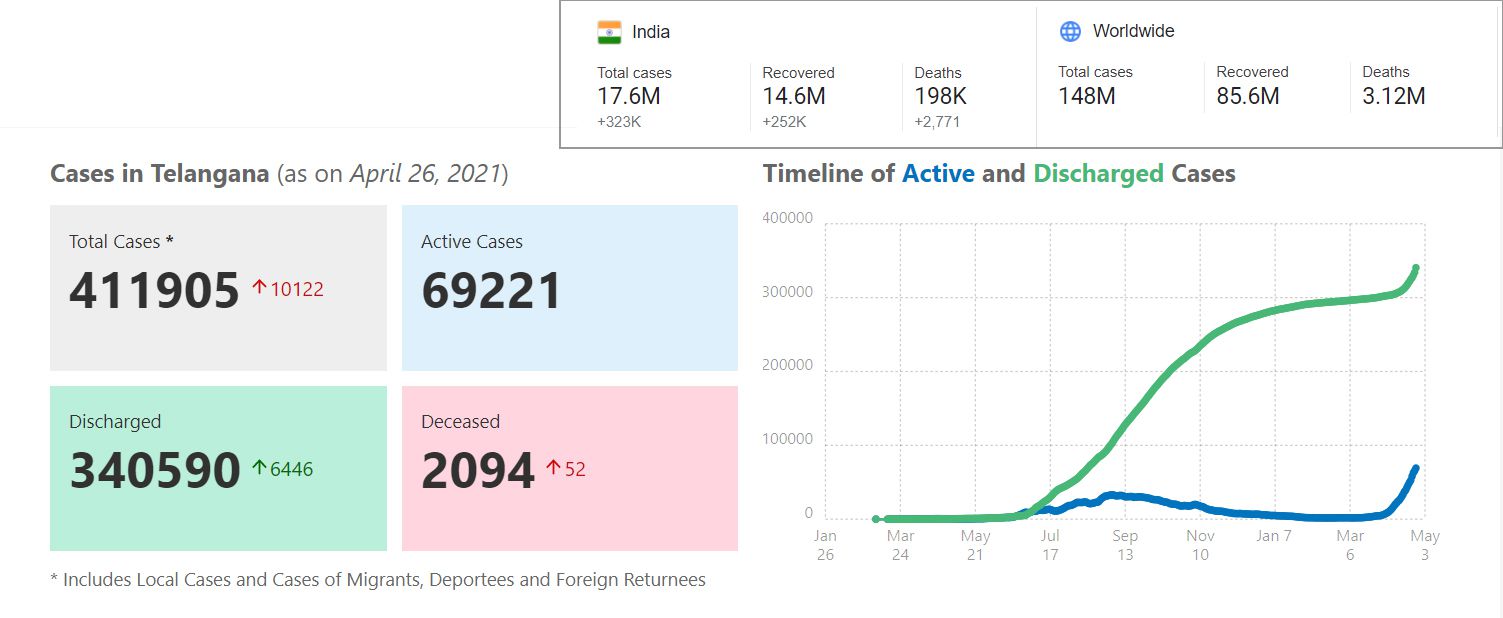 Since last year, Sai Deepa started a revised protocol for our factories and customer sites. The procedure "Identify-Isolate-Treat" was made mandatory for all departments. Mass Testing is now a regular incidence. We track the immediate contact points of covid positive employees & then test, isolate and begin early treatment.

General entry for visitors is restricted. In case of special visits, temperatures and oxygen levels are tested before permitting visitors an entry. Video meetings are the new normal. Our preventive actions ensured that the pandemic effect was lowest at Sai Deepa.
Shortage of Medical grade oxygen has a spillover effect to the industrial oxygen. Supply chains are derailed and delivery times, steel prices, cement etc. have left their tracks.

Difficult times have not spared us, but our cautious approach has kept business in control. Planning Inventories & stringent implementation of the Pandemic Procedures has saved the day for Sai Deepa. There shall be no compromise on quality & we shall try our best to meet the delivery schedules.

Last but certainly not the least, I wish to highlight that Sai Deepa got tremendous response from our channel partners across the globe. I would like to thank each one of you for the concern and support you have extended to us. 

Vaccination drive has started in the group, 95% of employees and their families, who are in the age group of 45 years and above are been vaccinated. We are also gearing up to complete vaccinations to all age groups as soon as they are eligible. We are planning to achieve herd immunity through vaccinations.

I will use this platform to update you regularly. Your feedback and suggestions will be very important to us. Let us all pray for people across the globe to be safe, in good health & recover from this pandemic situation as early as possible. 

Stay safe & stay healthy

Sunil Nuthakki